6 Ways to Transform Your Playset as Your Children Get Older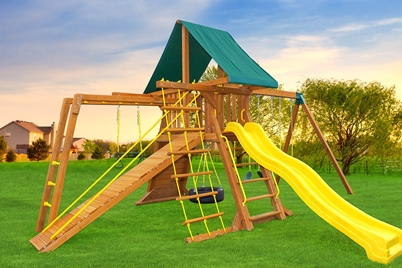 A backyard play set is an investment that families should be able to enjoy for many years when it comes to providing outdoor fun for the little ones in the family.  It is not unusual for parents or grandparents to purchase a basic swing set once children reach a certain age.
But as the kids get older, you may want to do some minor adjustments to the swing set to keep the activities exciting and developmentally challenging.
If this situation sounds familiar, there are several possible modifications you can add to make the swing set more age-appropriate. They range from simple and inexpensive to a bit more advanced. Depending on the types of activities your swing set currently features, here are six upgrade options to consider:
Rock Climbing Wall Adjustments: Removing some of the hand holds on the backyard play set's rock wall will make the climb a bit more difficult. This will help your children improve their agility and upper body strength.
Replacing the Infant Swings:It may seem like a no-brainer, but any infant swings or toddler swings should be replaced with traditional sling swings. Sling swings allow youngsters to work their leg muscles as they pump and soar through the air.
Adding Monkey Bars: Because monkey bars require coordination skills and athletic arms, this activity is typically set aside for older children. Adding a set of overhead monkey bars to a backyard play set that the kids have had for a few years will make the set seem brand new.
Adding a Gym Ring/Trapeze Bar: Like monkey bars, the combination gym ring/trapeze bar is another item parents usually hold off on during their initial purchase. But once they are physically ready for the challenge, the kids love this activity. They especially have a ball hanging upside down! If you don't want to sacrifice a spot on your swing beam for this activity, you can always add a wooden accessory arm off the clubhouse as a fourth swing position.
Swapping out the Step Ladder:Replace the wooden step ladder – which many parents opt for early on because of the surface area it offers – for one with metal rungs. Or you could add a wooden gang plank/ramp, which gives the kids a chance to run up to the clubhouse, another great way to get their heartbeat up! 
Upgrading or adding a slide: Moms and dads often hold back on purchasing a spiral tube slide because they want to keep their kids in sight at all times. Once the children are a bit older, that reservation fades. Whether you add a spiral slide or upgrade to a longer one (say the 14-foot scoop slide from a 10-foot wave slide), updating the slide gives any backyard play set a new look and feel.
Each of these options are a great way to rekindle the interest in your backyard play set. Kids will be kids, and at times, that means parents need to get a bit creative to help avoid boredom. Believe it or not, even adding a new accessory is often enough to get your children excited again and playing on the set.